Welcome to the Massive Marketing Success System! (Also known as Trafficleads2leverage)
Step A
Join me in TrafficLeads2IncomeVM HERE, which is the first step in setting up your list building lead capture page. (TrafficLeads2IncomeVM is a viral mailer, which means you can advertise via email to their members. It also has a lead capture page system.) Now enjoy 10000 Credits via this Promo Code: MMSBlog

Next, consider the TL2L Upgrade at Trafficleads2incomeVM. Click HERE for the advantages and see if you qualify for a reduced rate. It is the highest level offered at Trafficleads2incomeVM and maximizes your MMS Set Up.
The Massive Marketing Success system is a method I am using to promote a branded lead capture/squeeze page that generates leads for my Primary Business and can be applied to all opportunities. The reason you would want to use a page like this is you gain additional credibility when your page is unique and personal. In other words, not just another company page plus these are real time leads your are generating! Other elements of income from this plan can be derived from Trafficleads2incomeVM, GVO/Host Then Profit, Empower Network, and Referral Frenzy…all in the Trafficleads2incomeVM Downline Builder! So essentially, you are generating leads for these as well and possibly some of your own resources too! If you use another auto responder outside of GVO, that is fine as the system is adaptable. Send a support ticket from FAQ inside of Trafficleads2incomeVM if you need any help with alternate setups. Your sponsor gives their Auto Responder Recommendation in Step 2 inside Trafficleads2incomeVM.
Step B
Follow the 7 Step Marketing System in Trafficleads2incomeVM. You are going to need an autoresponder and what I'm about to show you gives you that plus an Authority Blog and a Voice Conference Room! To get your autoresponder, join HostThenProfit in your Trafficleads2incomeVM Downline Builder or see your sponsor's Auto Responder Recommendation in Step 2 inside Trafficleads2incomeVM.
(Upgrading to PureLeverage is Optional.)
Once in, upgrade to PureLeverage inside your HostThenProfit Backoffice; then upgrade to Reseller so that you become commission qualified. Complete the first 3 steps of the system inside Trafficleads2incomeVM, then stop.
You will find the steps listed below the video on the Home Page after you first log in to the members area. The First Step is right on that page. If you don't upgrade in Pure Leverage, you have the option to use Empower Network's Kalatu Blog as part of this system. See Empower Network in the Income Section of your Trafficleads2IncomeVM Downline Builder.
Go to your Profile at Trafficleads2incomeVM. Where it indicates AutoResponder, enter your referral url for HostThenProfit or whichever autoresponder you are using. Where it asks for Primary Business, place your primary business opportunity URL there. (Including the http:// )
The AutoResponder link for HostThenProfit is formatted as:
http://yourHTPid.hostthenprofit.com
(If you are not using an auto responder, then skip to Step C below.)
Go to the Downline Builder at TrafficLeads2IncomeVM and add your HostThenProfit, Trafficleads2leverage (MMS), Empower Network, and other Usernames; then Update. Use your PureLeverage ID for Trafficleads2leverage (MMS). Request your FREE TL2L Upgrade by sending a support ticket via the FAQ area of your Trafficleads2incomeVM backoffice. Read the details and the options of this Upgrade HERE before sending your support ticket. (Include your GVO/HTP/PureLeverage, or Empower Network, or ClubShopRewards user ids in the message, as this offer is open only to my upgraded members of GVO/HTP/PureLeverage, Empower Network, or ClubShopRewards.) The upgrade is Lifetime and puts your referral page on our main domain (trafficleads2incomevm.com) plus you earn 50% commissions, can create unlimited lead capture pages, and you receive daily credit refills. You will have access to the download area for the content of your My-Trafficleads2leverage Blog too. Go to Trafficleads2incomeVM, Affiliate Toolbox, to access the MMS emails directly if you are using a different autoresponder and not using PureLeverage or GVO/HostThenProfit. They are the first 5 emails listed. You will have to manually enter the letters into a campaign you create, edit them, and generate the HTML form code. Once done, Skip to Step C.
At this point please follow the instructions laid out here in TrafficLeads2Leverage, not the instructions at the PureLeverage or other sites. If you don't, you'll get confused and we don't want that! :)
(Reminder: Your TrafficLeads2Leverage/MassiveMarketingSuccess Username is your PureLeverage Username.)
Now go back to your PureLeverage back office. (If you are in HostThenProfit/GVO your screens will look a bit different but you should be able to adapt.)
Inside PureLeverage, go to Level 1 Marketing Suite/AutoResponder.
Click on Campaigns and choose List from the drop down menu. Now scroll down to the bottom of the page and enter this code in the Top Box: de7ee0bdEFf5
The emails will automatically populate in the newly created campaign.
Click on Get Campaign and you will be taken to your campaign setup.
Replace website URL in the setup (Company Settings) with your blog post link http://pureleverage.com/yourPureLeverageid/my-trafficleads2leverage/ (You will be creating this blog post in a minute, instructions below. GVO/HostThenProfit users use your TL2IVM Thankyou Page.) Click Edit to Save.
Now click on Campaigns/Custom Fields. Place the word Skype in Custom 1 and click Update.
Now click Forms, then Click on Create Form. For the Thankyou Page choose Custom URL, then place your TL2IVM thankyou page link in the box for both Thank you Page and Already Subscribed Thankyou Page.
Your thankyou page is provided by TrafficLeads2IncomeVM and the link looks like this:
http://www.trafficleads2incomevm.com/ty.php?rid=3 (replace the number with your id number from TL2IVM). You can edit your thankyou page to your own customizations. Check my format first before you do. Only PureLeverage members or those with their own blogs will follow my format, otherwise wait for later directions.
Uncheck the Double Opt-In box, Check the Skype Field as Visible, and click Create. The Campaign will be named MMS, not TL2L.
Now click the HTML button (the 3rd button from the left). This will create a popup with your form code HTML code, which you will need later. Keep this handy as we move to Trafficleads2incomeVM. Campaign Name is MMS not TL2L.
Step C
Now go back to TrafficLeads2IncomeVM.
The next piece of business is creating your Lead Capture Page. Back to Step 4 in TL2IVM, Paste your Form Code in the box indicated and Click Save My Autoresponder Code. Click Create New Lead Capture Page, choose your template, and name your page MMS. Now select your new page from the dropdown menu and edit it just like this: (If you are not using an autoresponder, you can replace the #AUTORESPONDER# code with your Primary Business Link for a page like this. (Again, easily editable to your customizations.)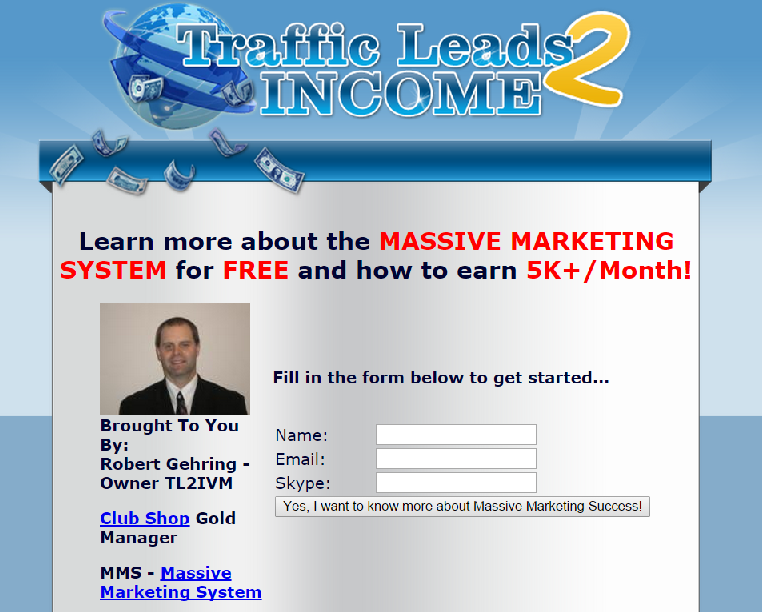 While you are here, edit your thankyou page as well, adding a link to your My-TrafficLead2Leverage blog post so your subscriber can follow the steps. ( http://pureleverage.com/yourPureLeverageid/my-trafficleads2leverage/ You will be creating this blog post in a minute, instructions below.) If you are not in Pure Leverage you will have the option to place that code on your Empower Network Kalatu Blog (See your TL2IVM Downline Builder), your own blog, or use the Trafficleads2incomeVM Thankyou page as a substitute Blog.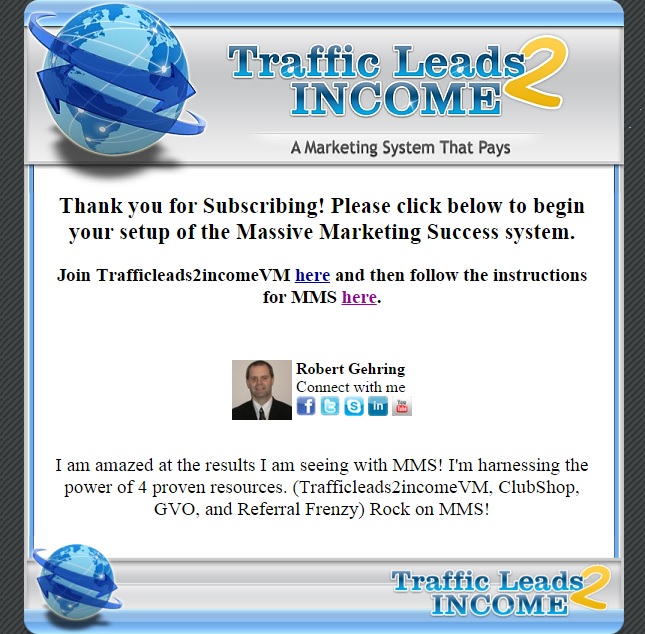 Now go back to PureLeverage.
Back in PureLeverage, create your own blog post like this one you're reading which will be used in your followup emails. You can access the code from the Downloads area at TrafficLeads2IncomeVM. Click Post to Your Blog, then Copy/Paste this code straight into your blog. (You will find easy instructions for this inside the Downloads page at TrafficLeads2IncomeVM.) You can also paste the code directly to your Thankyou Page at Trafficleads2incomeVM (example HERE) or another blogging resource that you use like Kalatu from Empower Network (See EN in the TL2IVM Downline Builder).
Save it and be sure to name it my-trafficleads2leverage. Test all the links before you advertise/use it! If you are not using PureLeverage as your Blogging resource, it is not necessary to name it my-trafficleads2leverage.
Tip: When setting up links in your Blog, always choose the option to open up in a new window which is also known as Target _blank.
Now go to PureLeverage Autoresponder: (Skip to Step D if you are not using the PureLeverage Autoresponder GVO/HostThenProfit members your screens will look a bit different.)
Finally, in order for your emails to be complete you need to go to PureLeverage and click on Level 1 Marketing Suite/Autoresponder.
Make sure you have your TL2L (MMS) campaign selected. Now click on Global Fields under Campaigns.
Scroll Down and place your Trafficleads2incomeVM ID (numeric) as Global1 and your MMS Blog or Thankyou Page as Global 2. Click Update.
An example of where Global 2 is used is the link to this very page! It will populate correctly in your emails.
RECAP: Your Trafficleads2Leverage/MMS page is done. It will do the following:
Give you a special list building lead capture page that will bring people to your MMS System, where they will have all the tools and support to build their own TL2IVM and other downlines as well as Drive Leads to Your Primary Business!
Step D
Follow Steps 5-7 in TrafficLeads2IncomeVM in order to get Traffic to your new Lead Capture Page, which will build your list, build your PureLeverage Downline, build your TrafficLeads2IncomeVM Downline and ultimately build your Income! Join the Primary Business recommendation of your sponsor listed in Step 5. Referral Frenzy is a HUGE resource mentioned in Step 5 at TL2IVM which drives traffic to your splash/lead capture page funneling leads into your Primary Business. Join from the Trafficleads2incomeVM Downline Builder. Additionally, if you are looking for a great promotional email for MMS, see your Affiliate ToolBox Area in Trafficleads2incomeVM, Step 5, Subject: Introducing the Massive Marketing System (MMS)
Note: Check your Trafficleads2incomeVM Downline Builder for our Partner sites that have added TrafficLeads2Leverage/MMS to their sites. Make sure you update your downline builders at these sites.
Some are also offering a FREE Upgrade for TL2L Skype/Facebook Group Partners. They are indicated in the downline builder with the ***Upgrade*** indicator. Request your Upgrade by sending a support ticket to these sites after you join and give them your TL2L/MMS Lead Capture Page and TL2L/MMS Blog URL. More great partner owners to come!
Skype me at rob.gehring for entry into our Skype Group.
Here is our Facebook Group. Click here to request entry.
Here's to your success!
James Byrd
http://jamesbbyrd.com
Skype: james.b.byrd